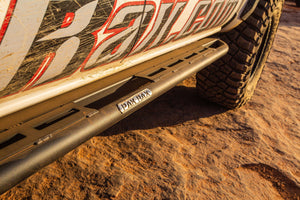 5 Reasons to Invest in Rock Sliders for Your Off Road Vehicle
If you're an overlander or off-roader, then you know the importance of having rock sliders on your vehicle. They protect your vehicle from damage when you're driving over rough terrain, and they can also be used as a stepping point to help you get in and out of your rig.
In this blog post, we'll explore five benefits that make rock sliders an unbeatable addition to any outdoor adventure ride! From increasing protection and providing stability on rough terrains to acting as a makeshift ramp or pivot point in tricky situations - investing in rock sliders will absolutely pay dividends no matter where your next journey takes you!
5 Reasons Why Rock Sliders are Essential
1. Increased Terrain Protection: Rock sliders can provide extra ground clearance over rough terrain, which is especially beneficial when traveling off-road. The additional height helps to avoid obstacles such as rocks, branches, and other debris that might otherwise damage the vehicle.
2. Offers Stability - Jacking Point: Installing rock sliders on your off-roading vehicle provides increased stability around corners and on uneven surfaces. The extra width of the rock sliders also creates a strong anchor points for the vehicle's suspension system, making it less likely to suffer from body roll or severe bouncing during off-road maneuvers. You can often use your rock sliders as a jack point on the trail if you need to change a wheel.
3. Protecting Rocker Panels: One of the main benefits of having rock sliders installed is that they protect your vehicle from rock chips and dings that are common on rough terrain. By attaching to the frame rails of your rig, they act as a buffer between your rig's body and any hazardous rocks or bumps along the way. Rock sliders are very effective at protecting your door frames or rocker panels which can be difficult to repair if damaged.
4. Doubles as a Step: Rock Sliders are great for providing a convenient stepping point when you need to get out of your rig quickly and safely—especially if you're stuck in mud or sand with low visibility. They also come in handy when crossing deep water crossings since they offer an easy way to get out of your vehicle without getting wet!
5. Can Be Used As A Pivot Point: In tricky situations like steep inclines or declines, rock sliders can be used as a makeshift ramp or pivot point off of rocks to help clear them safely with less risk of damage. This makes them incredibly useful for anyone who wants to explore more difficult terrain without taking excessive risks with their vehicle health and safety!
Overall, investing in rock sliders for your off-roading vehicle is a great way to increase ground clearance, provide stability on rough terrain and protect your car from damage. PAKRAX rock sliders are made of steel and offer the highest level of protection possible against rocks or other obstacles that can cause significant damage when driving over tough terrains. PAKRAX currently offers high quality steel rock slider for the Toyota Tacoma, Tundra and 4Runner models. They also act as a convenient stepping point for getting out of the rig quickly, plus they can be used as a makeshift ramp if needed! If you're an avid off-roader or overlander looking for extra safety measures then consider installing PAKRAX rock sliders today - it could help save you time, money, and hassle down the line!
The added protection and convenience that rock sliders can provide make them an invaluable addition to any off-roader's vehicle. So, if you're looking for a way to increase the safety of your rig and explore even more challenging terrain with less risk of damage - then installing PAKRAX rock sliders is the perfect solution! Not only do they offer superior protection from rocks and other obstacles, but they also provide a convenient stepping point when getting out of the rig in tricky situations. Investing in rock sliders will absolutely help you get the most out of your outdoor adventures - so be sure to check them out today!
---