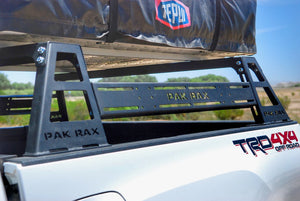 Steel vs. Aluminum Bed Racks For Your Toyota Tacoma and Rooftop Tent
Overland Bed Racks: Steel vs. Aluminum
When it comes to choosing the right bed rack for your rooftop tent setup, there are several factors to consider. One of the most important is the material: steel or aluminum. Although both have their advantages, steel has become a popular choice among overlanders and Toyota Tacoma owners who are building their rigs for overlanding purposes.
Steel is an incredibly strong and durable material and can easily support rooftop tents. Plus, it's more resistant to corrosion than aluminum and can last for years with proper maintenance. Steel bed racks also tend to be heavier than aluminum, making them more stable and less likely to move around during travel. This makes them ideal for off-road trips, as they provide extra protection against tough terrain.
Advantage Of Aluminum Bed Racks?
On the other hand, aluminum is a lighter option that won't be as heavy as a steel bed rack with your rooftop tent setup. It's also easier to install than steel since it is lighter when attaching or storing. Aluminum is still relatively strong compared to other materials but tends to be more prone to warping, bending and definitely cracking / braking under intense pressure or in extreme weather conditions.
Both steel and aluminum bed racks offer their own unique benefits when it comes to rooftop tent setups. Steel may be heavier but offers greater protection on rough roads while aluminum is lightweight and easier to install but may not stand up as well in offroad circumstances. Ultimately, it's up to you as the owner of your rooftop tent setup which material works best for you so take a few moments and weigh these options carefully before making your final decision!
Once you add a bed rack to your Toyota Tacoma or similar overland vehicle you might find yourself wanting to add additional accessories to carry now that you have the external attachment points. People often will carry:
Shovel
Highlift Jack
Propane
Traction Boards
Mountain Bikes
Awning
Extra Fuel / Water Containers ( Jerry Cans )
These items will add even more weight and it's important to know the limitations of your dynamic and static weight load capabilities before piling on a bunch of accessories in addition to your rooftop tent. Factoring these types of setup configurations before you make your purchase can save money and heart ache down the road. 
Bed Rack Verdict
We strongly believe that though steel is heaver it will stand the test of time and hold up to the weather abuse, off road conditions as well as have more flexibility with static and dynamic weights for whatever you are carrying on top. Often times the rooftop tent isn't the only thing you will be attaching to your bed racks. Reach out if you have any questions as we are passionate about overlanding and off roading!
---