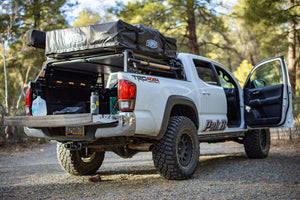 Tacoma Overland Essentials: Choosing the Right Sliders and Bed Racks
When it comes to overlanding in your trusty Tacoma, outfitting your vehicle with the right gear can make all the difference between a smooth adventure and a challenging one. Two essential components for Tacoma overlanding are sliders and bed racks. In this guide, we'll dive into the world of Tacoma overland essentials, helping you choose the right sliders and bed racks for your off-road adventures.
Why Sliders and Bed Racks Matter
Before we delve into the selection process, it's crucial to understand the significance of sliders and bed racks for your Tacoma overlanding setup.
Sliders: These rugged accessories protect the sides of your Tacoma from rocks, tree stumps, and other obstacles you might encounter on the trail. They also serve as a convenient step for getting in and out of your vehicle. Sliders are not just for protection; they're an integral part of your off-road toolkit.

Bed Racks: Bed racks provide additional storage space and allow you to carry essential gear, such as tents, camping equipment, and recovery tools. They free up space inside your Tacoma, ensuring you have everything you need for a comfortable and successful overland trip.
Choosing the Right Sliders
When selecting sliders for your Tacoma, consider the following factors:
Material: Sliders are typically made from steel or aluminum. Steel sliders are heavier but offer superior protection, while aluminum sliders are lightweight and resist corrosion.

Style: Sliders come in various styles, including bolt-on, weld-on, and hybrid options. Choose the one that suits your preferences and skill level for installation.

Length: Consider the length of the sliders. Longer sliders provide more protection but may reduce your Tacoma's departure angle.

Finish: Decide on the finish, whether it's a bare metal look, powder-coated for added durability, or custom paint-matched to your Tacoma.
Choosing the Right Bed Racks
Here's what to keep in mind when selecting bed racks:
Weight Capacity: Ensure the bed rack can support the weight of your gear, including rooftop tents, awnings, and other accessories.

Installation: Some bed racks require drilling into the bed, while others use a no-drill clamp-on system. Choose the one that aligns with your installation preference.

Height: Consider the height of the bed rack and how it affects your Tacoma's overall height. Taller bed racks may limit access to certain areas.

Versatility: Look for bed racks with adjustable crossbars and mounting options to accommodate various gear configurations.
Why Choose PAKRAX
When it comes to sliders and bed racks for your Tacoma overland adventures, PAKRAX is your trusted partner. Our custom fabrications are designed with precision and built to withstand the toughest terrains. With a range of options in materials, styles, and finishes, we have the perfect fit for your Tacoma.
Investing in quality sliders and bed racks from PAKRAX ensures that your Tacoma is ready for any overland expedition. Explore our product catalog today and elevate your overlanding game to new heights. Your next off-road adventure awaits, so gear up with PAKRAX, the choice of Tacoma overland enthusiasts worldwide.
---