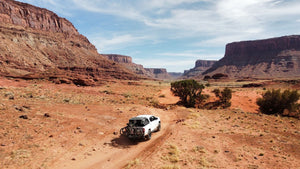 The Importance of Inspecting Your Overland Rig Before Going Off-Roading
Safety Tips When Overlanding
As an off-roader or overlander, you know that your rig is your most valuable asset. You rely on it to take you to places that most people can only dream of, and you trust it to keep you safe and experience and adventure. However, you can't just jump into your overland rig and head off on an adventure without first inspecting it. Taking the time to inspect your rig can save you from potentially dangerous situations while off-roading.
We recommend the following as a minimum for maximum enjoyment and safety when off-roading or overlanding:
Full size spare tire & jack for lifting lifted vehicles
Rock Sliders to protect rocker panels
Traction boards a winch and a Shovel
Trauma kit also known as IFAK and a general first aid kit
Quality tow strap & D-rings for recovery
Chase lights are recommended for dusty trails or night driving
Extra Water and fuel
Radio communications or a GPS transmitter
Before you take your rig off-roading, it's important to inspect your vehicle for any potential safety and performance issues. Make sure to check for any leaks and broken or worn parts, including tires, brakes, and suspension components. You should also check your battery, engine, and transmission for any signs of wear or damage. Check your transfer cases for any signs of leaking. If you notice any issues, be sure to address them before heading out on your journey.
It's also important to make sure your rig is properly equipped for the terrain you'll be traveling on. Make sure your tires are properly inflated and the tread is not worn down. Check the integrity of your lugs if you are running all terrain or mud terrain tires especially.  You should also inspect your winch and recovery gear to make sure they are in proper working order. Additionally, it's important to make sure you have the right spare parts and tools to make repairs on the fly if needed.
Finally, it's important to make sure your rig is stocked with the necessary supplies for the trip. This includes food, water, and any other supplies you might need for your off-roading adventure. You should also bring along a first-aid kit, a fire extinguisher, and extra fuel. Having these supplies on hand can help you stay safe and prepared for any potential issues you might encounter.
Inspecting your overland rig before going off-roading is an essential part of being a responsible off-roader. Taking the time to check for any potential issues can help ensure your safety and the safety of those around you. Additionally, having the right supplies on hand can help make your off-roading adventure more enjoyable and successful. 
So the next time you're heading out on an off-roading trip, don't forget to inspect your rig first! If you'd like to see where we go for off-roading adventure then follow us on Instagram!
---