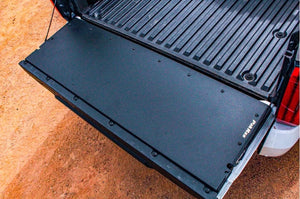 The PAKRAX TAILGATE PANEL is Perfect For Camping or Tailgating
The PAKRAX TAILGATE PANEL is the perfect solution for campers and tailgaters alike. Our innovative design offers superior convenience with features like; functions as great flat work surface, ideal for camping, cooking, outdoor activities, holding drinks and so much more!
Whether you're camping in the great outdoors or hosting a tailgate party at your next sporting event, our tailgate panel has all the features you need to make sure your adventure goes off without a hitch! It is specifically designed for 4x4 capable overlanding solutions. This panel adds strength to the tailgate of your truck, making it even tougher and more durable for any off-roading adventure. It's lightweight and easy to install, so you can get the most out of your vehicle while enjoying the great features PAKRAX has to offer. 
If you've ever used the factory tailgate for the Tacoma or Tundra you know that it has ridges which make it challenging to set down a can or glass because it will often fall over. With our rigid aluminum design you will add several square feet of valuable horizontal surface area not only for your drinks but any number of items which come in handy when you are camping or lacking table space. Also, it won't put those funny bump marks in your bootie!
Our TAILGATE PANEL is designed for the TOYOTA TACOMA TAILGATE PANEL 2005-CURRENT and the 2022 TOYOTA TUNDRA.
And even better, your factory tailgate soft open feature is not affected. 
- Textured Black Powder Coating
- Shipping: $30 Flat Rate in US (All parts received in 1 box)
- EASY INSTALL! Bolt on panel easily replaces factory panel using factory holes.
- Like all PAKRAX products, this was designed, laser cut, time saved, bent, powder-coated and packaged in-house, here in Gilbert, AZ.

Checkout our TAILGATE PANEL videos on Instagram! Hold my beer!
So get out there and enjoy your next outdoor experience - PAKRAX has you covered!
---