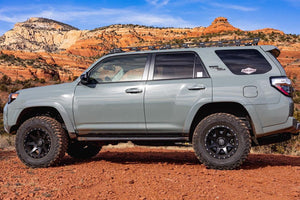 Toyota 4Runner: The Ultimate Off-Roading and Overlanding Vehicle
When it comes to off-roading and overlanding adventures, choosing the right vehicle can make all the difference. One remarkable option that consistently stands out in the market is the Toyota 4Runner. Renowned for its ruggedness, reliability, and off-road capabilities, the 4Runner has become a go-to choice for enthusiasts seeking thrilling escapades beyond the beaten path. In this blog post, we delve into why the Toyota 4Runner is a fantastic choice for off-roading and overlanding.
Unyielding Off-Road Performance: The 4Runner's DNA is infused with an adventurous spirit. With its robust body-on-frame construction, high ground clearance, and impressive approach and departure angles, this SUV is built to conquer challenging terrains. The available four-wheel drive (4WD) system, coupled with advanced off-road technologies such as crawl control, multi-terrain select, and locking rear differential, ensures exceptional traction, even in the harshest conditions.

Trail-Ready Design: The 4Runner's design perfectly blends form and function. Its muscular and aggressive exterior exudes confidence, while its skid plates and protective cladding safeguard vital components during intense off-road adventures. Equipped with optional accessories like roof racks, sturdy running boards, and a tow hitch receiver, the 4Runner offers ample storage capacity for gear, making it an ideal choice for overlanding trips.

Dependability and Longevity: Toyota's reputation for reliability is legendary, and the 4Runner upholds this tradition. With a track record for longevity and durability, this SUV is engineered to withstand the rigors of off-roading. Its powerful V6 engine delivers ample torque, and when properly maintained, the 4Runner can provide years of trouble-free performance, ensuring peace of mind during your off-road expeditions.

Spacious and Versatile Interior: While the 4Runner excels in off-road capabilities, it doesn't compromise on comfort and practicality. The interior offers generous space for both passengers and cargo, accommodating up to seven occupants with its optional third-row seating. With the ability to fold down the rear seats, you can create a vast cargo area for all your gear, camping equipment, and supplies.

Thriving Off-Roading Community: Another advantage of choosing the Toyota 4Runner is the passionate and thriving off-roading community that surrounds it. With numerous online forums, social media groups, and local clubs dedicated to 4Runner owners, you can tap into a wealth of knowledge, expertise, and camaraderie. Sharing experiences, trail recommendations, and modifications is an invaluable resource for both beginners and seasoned adventurers alike.
If you're seeking an exceptional vehicle for off-roading and overlanding, look no further than the Toyota 4Runner. With its unmatched off-road capabilities, durable construction, spacious interior, and a supportive community, the 4Runner offers a reliable and thrilling platform for your next outdoor exploration. So, buckle up, embrace the call of the wild, and let the Toyota 4Runner take you on unforgettable adventures off the beaten path.
PAKRAX has you covered for your 5th generation 4Runner. 
---