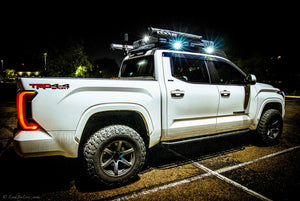 The Toyota Tundra: 5 Reasons Why It's A Great Vehicle For Overlanding
Why is a Toyota Tundra a good truck platform for an overlanding and off road vehicle?
Toyota Tundras are popular choices for overlanding and off-road vehicles because they have a reputation for being reliable, durable, and capable in rough terrain. They are also equipped with features that make them well-suited for this type of use, such as a high ground clearance, a sturdy suspension, and a powerful engine. This is a wise choice for those that need more towing capacity than a midsize truck like a Toyota Tacoma can handle.
Some specific features that make the Toyota Tundra a good choice for overlanding and off-road adventures include:
High ground clearance: The Tundra has a high ground clearance of around 10 inches, which helps it navigate over rough terrain and obstacles.

Sturdy suspension: The Tundra's suspension is designed to handle rough terrain and heavy loads, making it well-suited for off-road use.

Powerful engine: The Tundra is available with a variety of engines, including a 5.7L V8 that produces 381 horsepower and 401 lb-ft of torque. This provides plenty of power for tackling challenging trails and towing heavy loads.

Durable construction: The Tundra is built with a strong frame and body, which helps it withstand the rigors of off-road use.

Available 4WD: The Tundra is available with a 4WD system, which can help improve traction and stability on rough and slippery surfaces.
Overall, the Toyota Tundra is a well-rounded truck that is well-suited for overlanding and off-road adventures. It offers a strong and reliable platform that can handle a variety of terrains and conditions, making it a popular choice among overlanding enthusiasts.
If you own a Toyota Tundra take a look at our newest overland and off road products for the new 2022 Toyota Tundra!
---