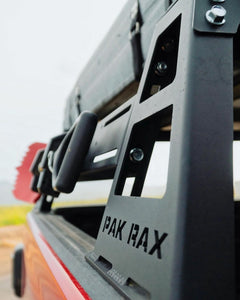 Truck Bed Racks are a Must-Have for Overlanding Enthusiasts
Off-road adventures are a big part of overlanding, where you explore unpaved roads and rugged terrains in search of new experiences and challenges. These adventures provide a sense of freedom, self-sufficiency, and allow you to escape from the distractions of daily life. Overlanding offers a unique blend of outdoor recreation, camping, and travel, providing an opportunity to connect with nature, test limits, and develop new skills. Whether traveling solo or with a group, overlanding and off-road adventures are an exciting and fulfilling way to explore the world and create unforgettable memories. 
In order to fully optimize your overlanding experience, it's important to consider the equipment you'll need, starting with a truck bed rack.
Truck bed racks are a must-have for overlanding enthusiasts as they offer several benefits:
Increased gear capacity: Bed racks allow you to carry more gear and supplies, freeing up space in your truck bed.

Elevated tent placement: Bed racks provide higher ground for mounting tents, allowing for a better view and increased privacy.

Improved storage options: With a bed rack, you have more space to store gear and supplies, which can be easily accessed while on the road.

Enhanced versatility: Truck bed racks offer versatility in terms of customization and can be equipped with various accessories such as lights, fuel cans, and more.
Overall, truck bed racks are an essential accessory for anyone who wants to maximize the benefits of overlanding and get the most out of their adventures.
So how can PAKRAX help? We offer the strength and longevity that only a heavy duty, steel bed rack, can provide. The PAKRAX Bed Racks offer the best quality on the market including the Tacoma, Tundra, Colorado, Ford Ranger, Jeep Gladiator,  FORD F-150 and RAPTOR. Shop our products.
---