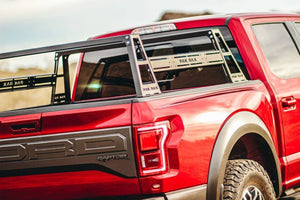 Why PAKRAX Products are the Best on the Market for Ford Trucks and Broncos
If you own a Ford Truck or Bronco, you need to equip it with products that will protect your overland rig and enhance its performance capabilities. That's why PAKRAX offers the best quality off-road products on the market today for Ford trucks and Broncos.
The Top PakRax Products for Ford Trucks and Broncos
For the Ford Bronco, the ultimate protection comes from our top-of-the-line Rock Sliders. They provide exceptional ground clearance and armor protection, ensuring your vehicle's rocker panels and doors will be protected when off-roading and overlanding. For owners of the Ford F-150 and Raptor, we offer robust Traction Board Mounts that enhance your vehicle's off-road capabilities. Also available is our uniquely designed Bed Rack, perfect for hauling cargo or mounting your rooftop tent for your adventures. Additionally, our Hi-Lift Mounts are engineered for extreme versatility and durability, making sure your vehicle is always ready for the unexpected.
Our Ford Ranger range is just as impressive. Our Traction Board Mounts give you a home for your MaxTrax or other traction boards for when you're off the beaten path. The Bed Rack allows for ample storage space or tent mount, while our Hi-Lift Mounts ensure your vehicle is equipped for any situation.
When your Ford is equipped with PAKRAX products, the possibilities for adventure are endless. Imagine taking your Ford Bronco with its sturdy Rock Sliders to Moab, Utah, renowned for its challenging off-road trails and stunning red rock landscapes. Or consider a trip to the sand dunes in Glamis, California with your Ford F-150 or Raptor. With your Traction Board Mounts and Bed Rack in place, moving through the shifting sand and setting up camp for a night under the stars would be a breeze. For Ford Ranger owners, why not venture into the heart of Colorado's Rocky Mountains? With the Traction Board Mounts and Hi-Lift Mounts, you can confidently navigate rugged terrains and steep inclines. These are just a few examples of the exciting off-roading trips you can embark on with your Ford equipped with PAKRAX armor and mounts for recovery gear.
At PAKRAX, we take pride in the quality and durability of our products. Our Rock Sliders for the Ford Bronco are manufactured from heavy-duty steel, ensuring they withstand the harshest terrains and protect your vehicle from potential damage. The Traction Board Mounts for the Ford F-150, Raptor, and Ranger are crafted from high-strength aluminum, promising longevity and resistance against corrosion. The Bed Racks, designed for the Ford F-150, Raptor, and Ranger, are made from industrial-grade steel providing exceptional load-bearing capacity. Lastly, our Hi-Lift Mounts, built for the Ford F-150, Raptor, and Ranger, are fabricated from premium quality steel and powder-coated to resist elements and ensure durability. Each of these products are engineered right here in the USA, in Gilbert, AZ., standing as a testament to American craftsmanship and dedication to quality.
Ford Bronco Rock Sliders: Perfect Blend of Protection and Style
Ford Bronco Rock Sliders not only offer extensive protection but also add a sleek, rugged look to your vehicle. They are aesthetically pleasing and enhance your Ford Bronco's overall appearance, making it stand out on both city streets and off-road terrains.
Traction Board Mounts: Your Key to Unbeaten Paths
The Traction Board Mounts for Ford F-150, Raptor, and Ranger are not only functional but also easy to install. Their design ensures you can access your traction boards in a pinch when you're navigating challenging terrains.
Bed Racks: Maximizing Cargo Space
The Bed Racks designed for Ford F-150, Raptor, and Ranger, not only provide ample cargo space but also incorporate a customizable design. This allows users to set up their rooftop tent in the way that best suits their needs, making the most out of the available space.
Hi-Lift Mounts: Dependable Assistance in Sticky Situations
Our Hi-Lift Mounts for the Ford F-150, Raptor, and Ranger are not only known for their durability but are also praised for their ease of use. With a simple design, they can be deployed quickly and efficiently when required, providing reliable assistance in tricky situations. If you carry a Hi-Lift jack on your rig, then our PAKRAX mounts will be perfect for your setup.
---