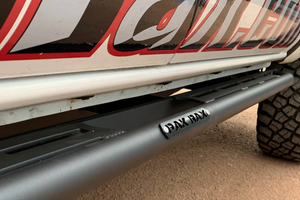 Why Rock Sliders are Essential for Protecting Your Toyota Tacoma
There are a lot of different rock sliders on the market for the Toyota Tacoma, so it can be tricky to know which ones are best for preventing damage. But don't worry, we've got you covered. Rock sliders are one of the best modifications you can make for your Toyota Tacoma if you are planning to do any off-roading beyond forest service roads.
If you are planning to take your Tacoma through tight trails with off-camber terrain the number one component for protection is rock sliders. Even though you may not be planning to "slide down or over rocks" they protect your truck's rocker panels, which, if damaged, can be catastrophic to your truck cab. 
You can also utilize rock sliders on your Tacoma to pivot around obstacles in tight trails. This often will sound terrible but can be a tool to help maneuver through tails where you don't have an option and will keep you from potentially high centering on the rock. 
Rock sliders are also great for use as side steps to reach items on top of your truck which can be useful when you're stuck in mud or other terrains. We promote the use of steel as it is a material that can take the abuse from the weight of your Tacoma and will outlast aluminum if properly cared for. 
Most rock sliders are easy to install as they will bolt on to your factory Tacoma frame. We offer them in a flat configuration or 15 degree angled version. 
Sliders come fully welded, ready bolt to your frame, and with stand black powder coating. Pick yours up today.
---