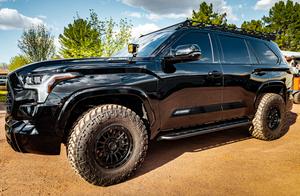 PAKRAX Loves the Toyota Sequoia For Overlanding
The Toyota Sequoia isn't always the first SUV that people think of when they are looking to purchase or outfit a vehicle for overlanding or off-road camping. Yes, it is a big vehicle with its long 122" wheelbase compared to the 109.8" wheelbase of the 5th generation 4Runner but with that extra size comes some unique advantages that are often overlooked.
With the new 2023 Toyota Sequoia, the overall length has actually increased by 3 inches compared to the previous generation which adds even more cargo space which is incredibly helpful if you are utilizing the rear seats for kids, dogs, or other passengers. We all know that the amount of gear and camping equipment we bring increases with the number of people that are on these fun overlanding adventures. Every person needs a sleep system, food, water, a personal bag, and shelter at a minimum, this means extra cargo space is vital for enhancing the experience and making memories that will never be forgotten.
We have started manufacturing different off-road accessories for both the second-generation (2007-2022) and third-generation (2023-current) Toyota Sequoia that allow you to utilize the massive roof for extra storage with our latest PAKRAX roof rack.  If you have a 2nd Gen Sequoia, the roof rack we have now is one hundred percent steel, designed & manufactured completely in-house in Gilbert, AZ using high-grade US steel. 
This rack is for overland enthusiasts who need a strong, durable yet sleek design, with ample options for their adventures overlanding. Great for rooftop camping with a rooftop tent, storage boxes, outdoor gear, kayaks, tools, and it features plenty of holes for additional mountable accessories!
We also have just released the roof rack for the all-new updated 3rd gen (2023-current) Toyota Sequoia! We've also manufactured the new roof rack with space for off-road lighting.
KEY FEATURES
• 100 PERCENT USA GRADE STEEL
• STRONGEST STEEL ROOF RACK ON THE MARKET
• MADE TO LAST, NO ALUMINUM PARTS
•

 

100% DESIGNED, CUT, MANUFACTURED, POWDER-COATED BY PAKRAX
• ZERO WIND NOISE WITH SLEEK AERODYNAMIC DESIGN 
There are a lot of reasons why the new 3rd generation Sequoia might be an attractive option for not just your daily driver if you have a growing family but also as your primary overland / off-off road rig:
Excellent Off-Road Capability: The 2023 Toyota Sequoia TRD Pro comes with advanced off-road features, such as the Multi-Mode 4WD system, Crawl Control, and Kinetic Dynamic Suspension System, making it perfect for off-road adventures.

Durable Build: The Sequoia TRD Pro has been designed with durability in mind. It features a reinforced body, skid plates, and heavy-duty shocks to handle harsh terrain.

Spacious and Comfortable: The Sequoia TRD Pro offers plenty of space for passengers and cargo, making it a great vehicle for long trips. The interior is also comfortable and well-equipped with features such as heated and ventilated front seats, a JBL sound system, and a touchscreen infotainment system.

Impressive Towing Capacity: With a towing capacity of up to 7,400 pounds, the Sequoia TRD Pro can handle heavy loads, making it ideal for overland enthusiasts who need to tow a trailer or other equipment.

Advanced Safety Features: The Sequoia TRD Pro comes with a range of safety features, such as a blind-spot monitoring system, rear cross-traffic alert, and adaptive cruise control, to ensure a safe and secure ride.

Reliable and Efficient Engine: The Sequoia TRD Pro is powered by a 5.7-liter V8 engine that delivers 381 horsepower and 401 lb-ft of torque. This engine is both reliable and efficient, providing a smooth and powerful ride.

Stylish and Aggressive Design: The Sequoia TRD Pro features a bold and aggressive design that is sure to turn heads. It comes with unique exterior features, such as blacked-out TRD Pro badging, LED headlights, and 18-inch black alloy wheels.

Easy-to-Use Technology: The Sequoia TRD Pro comes with a range of technology features that are easy to use, such as a 7-inch touchscreen infotainment system, Bluetooth connectivity, and a wireless charging pad.

Customizable Options: The Sequoia TRD Pro comes with a range of customizable options, such as roof rack crossbars, running boards, and all-weather floor liners, making it easy to personalize the vehicle to suit your needs.

Toyota Reliability: Toyota is known for its reliability, and the Sequoia TRD Pro is no exception. With proper maintenance, this vehicle can provide many years of trouble-free service, making it a great investment for overland enthusiasts.
For these reasons and many others we love the Toyota Sequoia as a choice when selecting a vehicle for not only the everyday errands and tasks but also for off road and overland adventuring. 
We have also been hard at work and have released the brand new off road rock sliders for the 3rd generation 2023+ Toyota Sequoia! Rock sliders are probably one of the most important armor accessories to protect your rocker panels, increase ground clearance from removing footsteps that often limit your clearance over rocks, and running through ditches.  These are also great as steps to reach the gear off your roof rack or stow your rooftop tent.
Why Rocksliders?
Increased ground clearance: Square tube sliders provide an additional two inches of ground clearance, allowing you to traverse rougher terrain without worrying about bottoming out.
Improved traction: Square tube sliders offer improved traction in off-road scenarios, allowing for better grip and stability.
Durability: Square tube sliders are made from durable materials, making them an ideal choice for those looking for a long-term solution.
Easy installation: Installation of these sliders is relatively straightforward, meaning you can get them up and running in no time.
Added protection: Square tube sliders provide extra protection for your 4Runner, helping to keep it safe from any potential damage caused by off-roading scenarios.
We hope that you aren't discouraged from using a larger SUV to be the main rig you use for overlanding. As always if you have any questions or would like more information about the purchase or installation process then feel free to reach out to us. We aren't just passionate about our products but we also love the outdoors. The more people we can encourage and equip to share that passion the better.
---