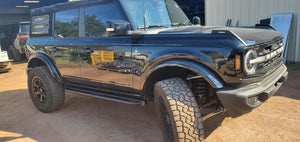 Introducing our latest product, the Ford Bronco Rock Sliders!
Are you an adventure seeker who loves nothing more than taking your Ford Bronco off the beaten path? Do you seek out ways to maximize your vehicle's capability on overlanding excursions? If so, then we've got just the thing for you! Introducing our latest product: the Ford Bronco Rock Sliders. These sliders are designed to provide tough protection when tackling harsh terrain - perfect if you love challenging yourself while exploring nature in all its glory! Constructed from durable steel, they'll keep your tires and body panels safe without compromising style or performance. So go ahead and take that next step with confidence knowing that these rock sliders have your back.
What are Ford Bronco Rock Sliders and why you need them
Ford Bronco Rock Sliders have been a popular addition for those looking for off-roading protection for their vehicle. With steel construction and custom designs, they provide extra ground clearance as well as protection for the underside of your rig while traversing tough terrain. They also mount securely to your existing frame for maximum protection without taking away from the aesthetics of your ride. Rock Sliders are an essential add-on for any ford bronco owner willing to take their Bronco off the beaten path and need a bit more security.
Protect your new four door Ford Bronco with our steel bolt on Rock Sliders
If you're the proud owner of a new four-door Ford Bronco, then you know it's worth protecting. That's why you need our steel bolt on sliders! Our sliders are made from heavy-duty steel, so they can take all kinds of abuse. They are easy to attach to your bronco, too – all you have to do is bolt them into place and you'll be ready for off-roading in no time. Plus, our sliders come with free shipping, so you don't have to worry about paying an extra charge just to get them. Protect your bronco today and start tackling those tough trails!
How easy it is to install Ford Bronco Rock Sliders on your vehicle
If you are looking to make off-roading or overlanding more accessible in your vehicle, then the installation of Ford Bronco Rock Sliders could be the thing for you. They are easy to install and provide extra protection for the sides of your off-road vehicle. Many off-roading enthusiasts choose to add these on as they offer an added layer of protection against off-road obstacles that can be encountered along your off-road adventures. These rock sliders not only give your vehicle a unique look but also pieces of mind that it is protected from dings and scrapes during off-roading endeavors. Installing them is a simple exercise that can get you back out there on the trails quickly and safely with confidence in the knowledge that your 4x4 is protected needs to be.
Take confidence in knowing you are protecting your Bronco and adding additional maneuver functionality over challenging rock obstacles. 
---